Welcome to your Phuket Wedding Celebrant, in Thailand and Asia Beyond.
I can help complete that special day for your Marriage ceremeony on the beautiful Island of Phuket, Thailand, or in fact anywhere in Asia – I will ensure that your Unique day goes exactly as you planned.  As an experienced Wedding Celebrant, I have been based out of Thailand for the last 10 +  years and have been privileged to work with many couples from all over the World.
I served in the Royal Air Force for 23 years and trained as an instructor and event organizer among other things before retiring to Phuket, Thailand. More information on my background can be found on my website PC Consulting Asia.
As your Phuket Wedding Celebrant, I will guide you through the whole process of creating your own personalized Marriage Ceremony, from its format to the creation together of your personalized vows. After sending you both example vows, we will then together create the perfect ceremony, tailored to you both. This normally takes no more than 3-4 emails to reviews the wedding ceremony scripts until a final version is agreed upon.
My celebrant booking process is simple either by email, contact page or using my Wedding Celebrant Booking Page in the menu above. It shows my availability and you can book and/or pay online.  If you book me as your Phuket Wedding Celebrant you can also pay me on your wedding day if more convenient?
To answer those important initial questions you may have before booking please see my Wedding Officiant Questions page.
I will always try to meet you before your Wedding Day so we get to know each other and as a final check to ensure the Ceremony is exactly as planned. But here is a short explanation:
1. Choose a suitable Phuket Celebrant
Discuss your ideas together?
2. Your celebrant sends you example wedding vow & scripts..
3. You send him your ideas and ideal ceremony choice..
4. The celebrant reviews your ceremony choice and then he completes the ceremony final draft.
5. Your celebrant sends the ceremony for the final review to you.
You & your celebrant understand the ceremony in detail.
.
6. Maybe a wedding rehearsal?
Wedding Day. Tip: Pay the Celebrant online before or in a white envelope before the Ceremony

Wedding Ceremony Music
No marriage ceremony would be complete with music to help coordinate the ceremony. I would suggest you choose at least a memorable song for the Bride walking down the aisle and a 2nd song for when you both leave the ceremony on the Recessional walk out together.

Most wedding ceremonies start between 4.40 and 5 pm. It is generally cooler and the light is better for photography and your guests. It also leaves enough time after the Ceremony for a Sunset Photoshoot.
Wedding Ceremony Vows & Service
To draft your wedding ceremony vows and ceremony script.  There are many options but here are just a few suggestions on how to plan your wedding ceremony:
This process to draft your wedding ceremony script does not take long and it can be completed within a few emails.
| Option 1 | Option 2 | Option 3 |
| --- | --- | --- |
| You create a brand new wedding ceremony and unique wedding vows for yourself. | From the examples I send you of a "typical" wedding ceremony script, you select the best parts from each and create your own wedding ceremony from these. You can use the standard wedding vows or create your own vows. | Use one of the example Ceremony scripts in full and then I return the wedding ceremony to you tailored, with your names and other small details. |
With your ceremony ready, music for the processional and recessional walk chosen then all is ready for your special day.  I will send you the final ceremony script so you know exactly what to expect when we start your ceremony at the agreed time.
I will talk to you just before the ceremony to cover the key points again and to make sure your enjoy this special moment together.
If you have your own Marriage Wows you would like to say to each other, I can also prepare this for you so that you have beautiful printed "Q Cards" to read from. These will also serve as another memento in addition to the ceremonial marriage certificate.
Wedding Celebrant Reviews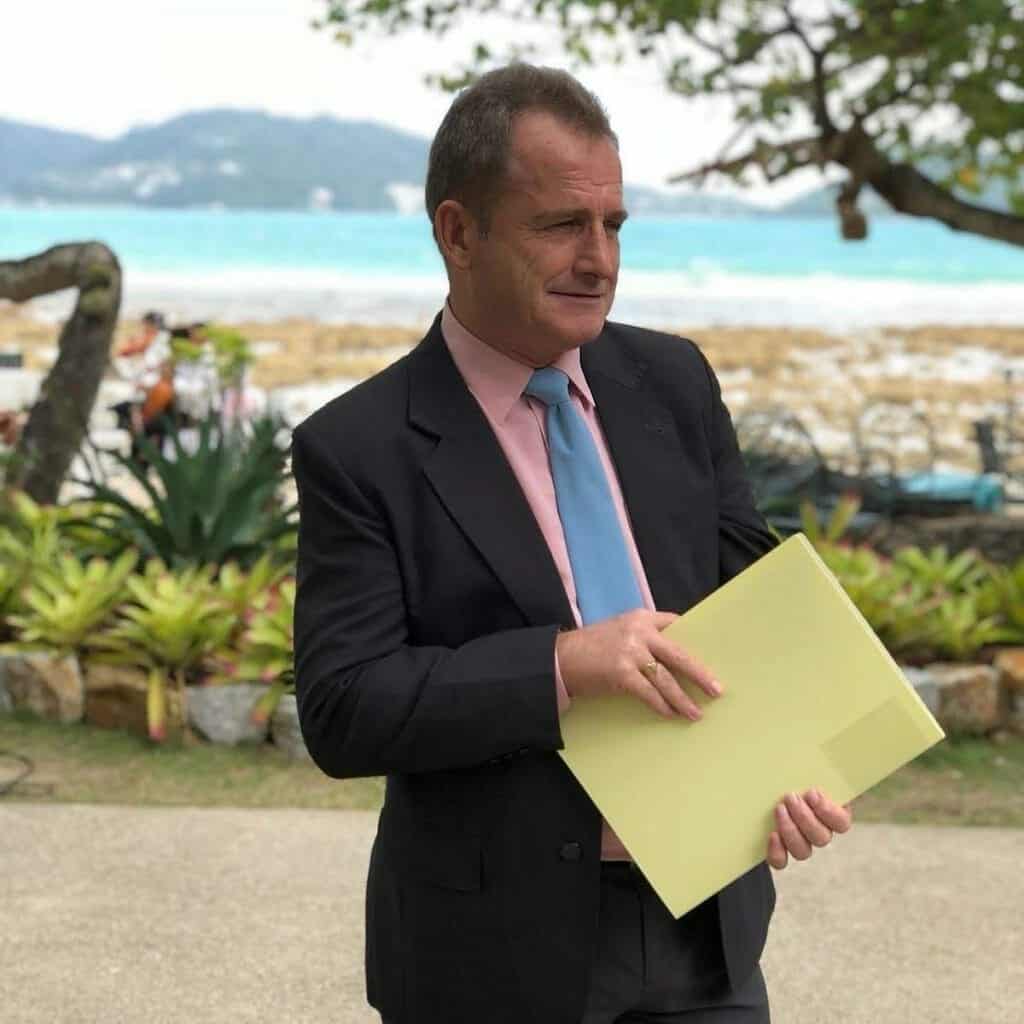 A natural speaker in front of an audience,  I as your Phuket Wedding Celebrant will ensure that you will have a day full of wonderful memories.
Please Contact Me and I will answer any questions you may have? 
Paul Cunliffe