Wedding Officiant in Phuket & Asia
Welcome, to Wedding Celebrant Asia. I am Paul Cunliffe, an  experienced Wedding Celebrant and Master of ceremonies based out of Phuket, Thailand. I have been a wedding celebrant and masters of ceremonies (MC) for over 5 years.
My Thai company is called Wedding Celebrant Asia which allows me to live and work in Thailand.
As an established Celebrant in Phuket, I have successfully conducted many  ceremonies at locations all over Phuket, Thailand. It has been a privilege to meet many couples from all other the World and I have some wonderful memories of weddings at some of the most beautiful wedding venues.
Therefore, I know many of the best venues in Phuket so I can help and advise on most aspects of your wedding planning including your marriage ceremony of course. 
This website and all my social media channels @weddingcelebrantasia & @weddingcelebrantphuket has many stories of the weddings I was asked to officiate over as Wedding Celebrant Asia.
As your Wedding Celebrant, I will guide you through the whole process of creating your own personalized Wedding Ceremony, from its format to the creation together of your personalized vows. After sending you both example example vows to choose and tailor from, we will then together create the perfect ceremony for you, tailored to you both. I will always meet you before your Wedding Day so we get to know each other and as a final check to ensure the Ceremony is exactly as planned.
So please do contact me if you have any questions and be assured that together we can plan that perfect marriage ceremony.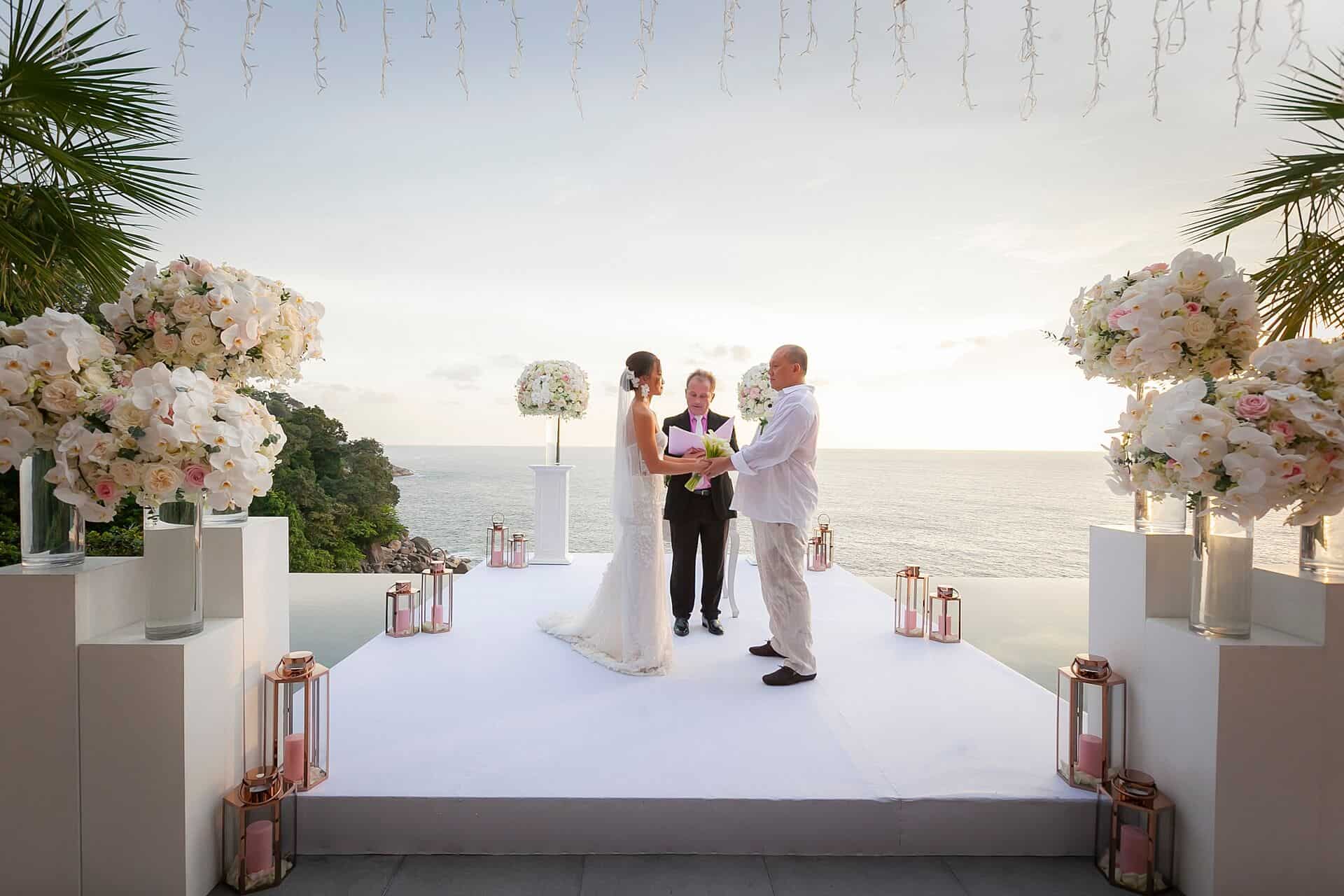 Phuket has some of the best venues for Villa wedding ceremonies. The ceremony and the vows are similar at all venues but the coordination of the overall Wedding Ceremony is more complicated due to the layout and  less space. However, a private luxury villa ensure that you enjoy a totally private and exclusive wedding ceremony.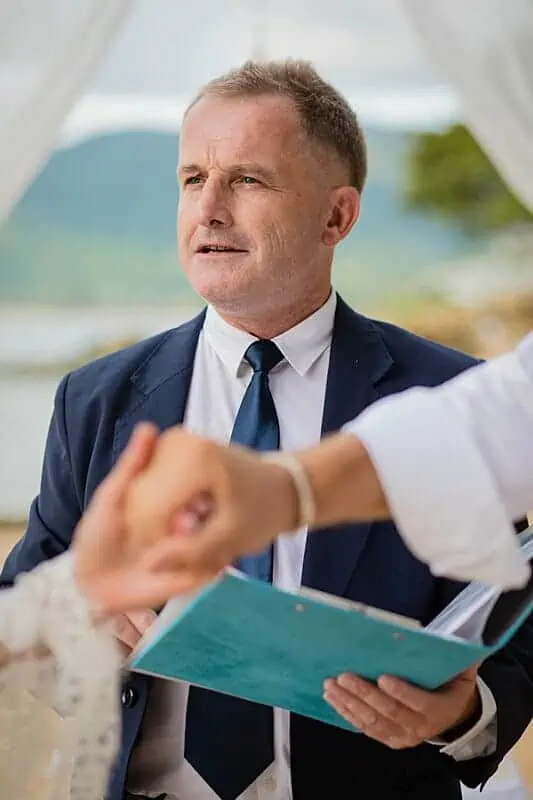 The beach is a perfect location for an overseas wedding ceremony. There are many stunning locations for that perfect memorable wedding ceremony. The major beaches in Phuket do not allow weddings but the less popular beach do allow and hence ensure a private or very near private wedding ceremony.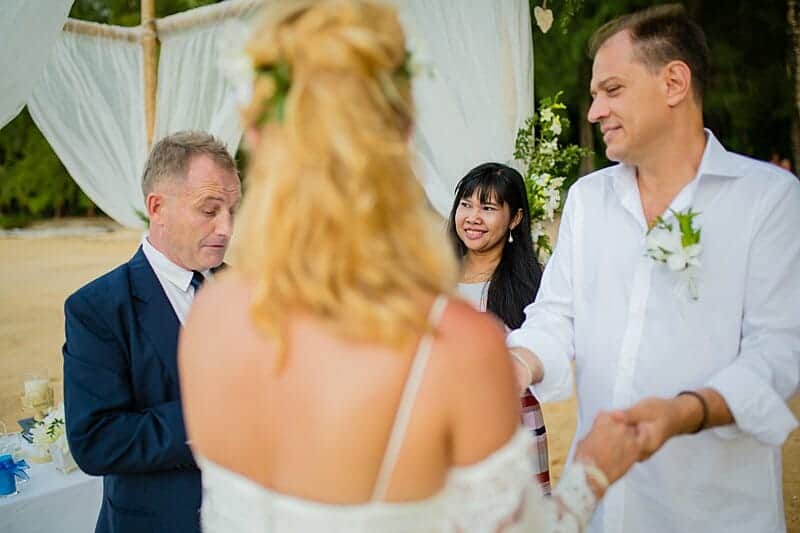 Resort Wedding Ceremonies
Resorts in Phuket provides wedding venues that facilities that are are in combines the advantages of the beach and villa wedding. Invariably, with more facilities for the wedding are available at the expense of a less than totally private wedding achieved on a remote Phuket Beach or Private Villa.
---
Wedding Celebrant News and wedding ceremonies from around the World on my Celebrant blog.
What is a Wedding Celebrant?
To fully understand how I can help you with your destination wedding lets look at what a wedding celebrant is, and how they can help you with your wedding and wedding planning? 
Simply put, a Wedding Celebrant is a person who performs and officiates formal ceremonies. He or she may have had a previous public speaking career or role like a military officer, lawyer, Doctor or government official but this is not a requirement.


A wedding celebrant can assist and guide you the couple in completing the necessary requirements for the marriage license, if that is required, although they do not have the authority to approve it.  While priests and registrars have to follow specific religious and legal structures, while wedding celebrants can be flexible when it comes to running the ceremony, thus meaning that you have more of a say over what you want to include and exclude in the ceremony. Your marriage ceremony can be tailored exactly to your ideas and requests so bespoke ceremony.


Different countries have different requirements when it comes to making your marriage official, so your wedding celebrant can help you complete the appropriate research and with local knowledge and experience to add. A wedding celebrant will not only ensure that your wedding runs smoothly from the paperwork (if required) to the actual ceremony, they will guarantee that the experience and memories that the event will impart upon you and your guests will surely be one of a kind. By choosing a wedding celebrant to conduct your ceremony you are able to have a ceremony that is completely personal to you without restrictions on venue or timing and with your own choice of vows, readings and music.


A friend or family member is the ideal candidate for a Master of Ceremonies for the coordination of your wedding day after your wedding ceremony. However, if you are unable to find a suitable candidate, your Wedding Celebrant would be an ideal Master of Ceremonies with valuable experience to ensure a well run wedding day.


How does a wedding celebrant differ from other officiants? These terms are used interchangeably with the UK tending to use Officiant more often, but a Wedding Celebrant is a person who performs and officiates formal ceremonies. Although they are commonly seen in weddings, they can also conduct other ceremonies like vow renewals, baby naming, and funeral rites.
Wedding Celebrant in Thailand - Civil Ceremony
A civil wedding ceremony is a nonreligious, legal marriage ceremony presided over by a government official.  There are priests and pastors available in Thailand for a religious wedding ceremony but invariably it is simpler to perform the legal function at home before arriving in Thailand.
This is what most couples planning a destination wedding in Thailand plan for. So most of the wedding ceremonies I officiate on are non-legal and non-religious with a ceremonial wedding certificate. This is an ideal place for same sex couples to get married as although not same sex wedding are not legal in Thailand, the Thai people are very comfortable with same sex wedding ceremonies. However, If you are looking at planning a full civil ceremony I can help with coordinating the government official and I can add it to our planning process (see below).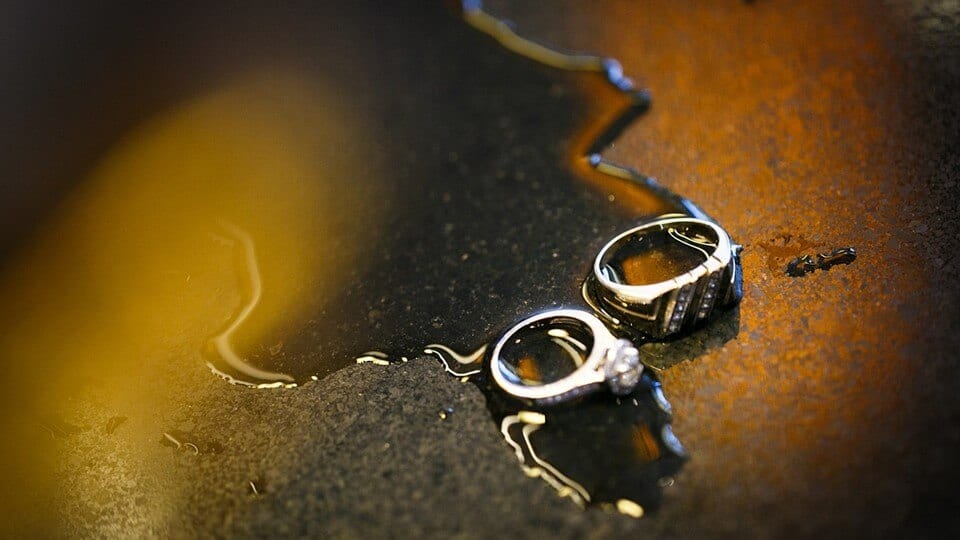 Legal Weddings in Thailand
Legal Wedding in Phuket Getting Married in Phuket: More and more couples are asking about a Legal Wedding in Thailand in addition to the Ceremonial Ceremony. This is possible but it does involve a visit to your country's embassy in Bangkok at least 10 days before your Phuket Wedding. The whole Legal Wedding Process is outlined on my Getting Married in Thailand page.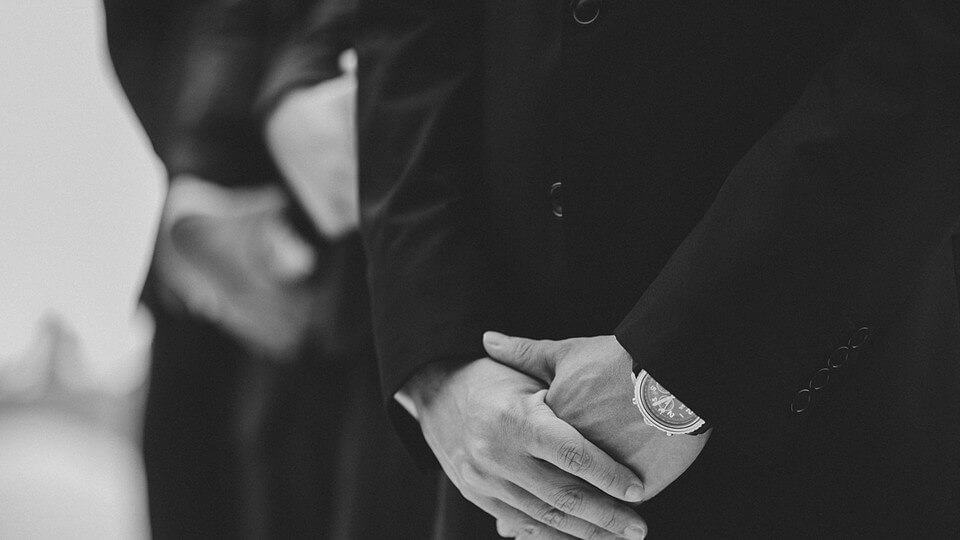 Celebrant Frequently Asked Questions
I have outlined the simple process in finding and booking me. The process is similar with all Celebrants I know and also answers most of the questions we get asked. Information regarding my deposit and payments on are also shown on Frequently Asked Questions page.
Wedding Celebrant Asia Booking
Creating the ideal Wedding Ceremony for an overseas wedding may seem daunting. After a simple email to book me  or via the Quick Link above to block my schedule  is all this is required. The process then is straight forward, and I start by sending you some starter example wedding ceremony scripts, and then we plan from there.  If we are unable to meet soon or your have questions I do recommend a quick Skype call (@pccunny).
A wedding ceremony video is the perfect keepsake to remember your special day. Here is selection of my wedding ceremony videos from my Celebrant YouTube channel to give you a better understanding of how your wedding ceremony will proceed. 
Getting Married in Phuket
If you are planning to get married in Phuket please look through my website. After reading my wedding celebrant asia website, I am sure you will have further questions? So please do not hesitate to contact me and we can discuss your wedding ceremony options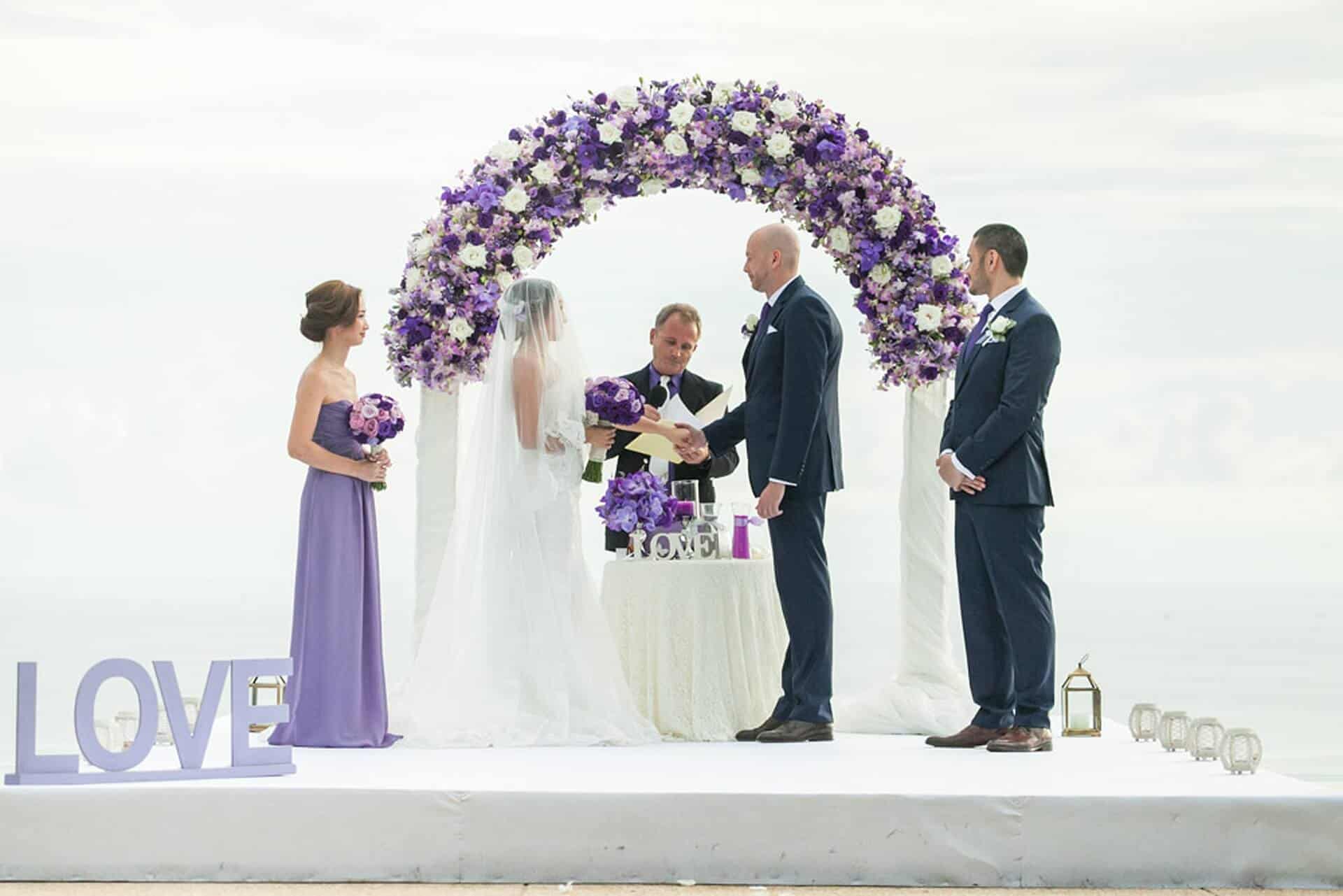 Phuket Celebrant – Paul Cunliffe

After booking me as your celebrant the next priority is to start to draft your wedding ceremony vows and wedding ceremony script.  There are many options but here are just a few suggestions on how to plan your wedding ceremony:
You create a brand new wedding ceremony and unique wedding vows for yourself.
From the examples I send you of a "typical" wedding ceremony script, you select the best parts from each and create your own wedding ceremony from these. You can use the standard wedding vows or create your own vows.
Use one of the example Ceremony scripts in full and then I return the wedding ceremony to you tailored, with your names and other small details.
This process to draft your wedding ceremony script does not take long and it can be completed within a few emails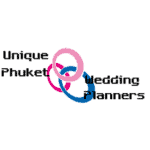 In addition to Wedding Celebrant Asia, I am also a Wedding Planner with Unique Phuket Wedding Planners - so I can advise on most aspects of your wedding plans in Phuket. Supparin arranges all the Wedding Flowers, location choice, and set up plus can organize tours for you & all your guests. Paul is an experienced Celebrant and supports Supparin in all your wedding day arrangements. Therefore, we can plan all aspects of your Special Day in-house thus ensuring a wonderful & Unique Wedding Day. This means we can also manage our costs extremely well so you will have a great event at a great price, without compromising on the quality in any way.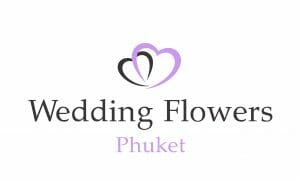 My partner Supparin who runs Unique Phuket Wedding Planners is also a Wedding Designer and Florist in her own right. She has extensive knowledge of Phuket and a very experienced wedding designer. Please contact her at [email protected]. Supparin, also known by her nickname Toom is an exceptional Wedding Florist. All her flowers are designed and made for each event to the client's request. Unless only doing simple bouquets, we need several sets of hands to put the flowers together. Set up a time (probably the day before the wedding) to do the arranging. We have pictures on hand of what the final product is supposed to look like and set up a sample or two to copy. Once all the flower setup is complete, we always carry out a quality control process to make sure they look the way they're supposed to. For more information on Wedding Flowers in Phuket – please visit our website: Wedding Flowers Phuket.
Celebrant Customer Reviews